Meet The Off Leash K9 Team
Hello! My name is Jose! My passion for dogs is what got me here today. I started working at doggie daycares at a very young age and had the opportunity to get more into the training field, so I could help manage behavioral issues with dogs that were not able to come to daycare. I'm very thankful to be here helping people to communicate with their dogs through our training system and providing the best care for your pets
Jake realized his affinity with animals while working with Horses and herding dogs out on the farms. He started his career in canine behavior and training in 2010 working with a local animal boarding and training facility's in Boca Raton pairing with local Police. While in School in Gainesville pursuing his business degree Jake paired with ASPCA working against the abuse and investigation of fighting pit bull operations. https://www.aspca.org/about-us/press-releases/367-dogs-rescued-multi-state-dog-fighting-case-second-largest-us-history. This is where Jake learned the tools to assist and rehabilitate the most aggressive and abused dogs he has ever witnessed and realized his purpose. After rehabilitating over 300 dogs, he went on to run and manage a local rescue with AHHHA taking in numerous dogs that needed homes and housing.

While working here he has picked up a plethora of tools to train and educate through canine behavior and mental health. Moving forward Jake was trained formally through various methods and regiments such as Service Dog Training, Therapy, ESA, and Protection. Over his career Jake has made a dedication in his life to find and give every dog in need of assistance a more behaviorally safe and enjoyable life with their companions while traveling the US. Jake continues to follow the path of educating and furthering his knowledge by attending a multitude of seminars and research in animal behavior, understanding breed specific tendencies and how to work with every breed and temperament.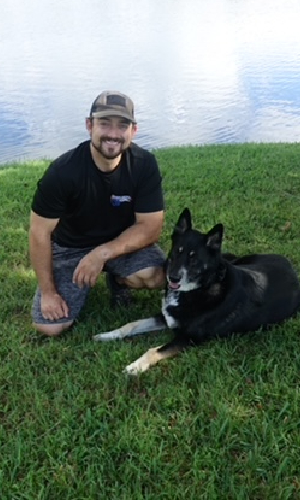 Alaina has been working with animals for over 30 years. Born in New Jersey, she is a graduate of Colorado State University with a BS degree in Psychology,. She is extremely interested in studying behavior, especially the relationships between humans & animals. While at college she got her first German Shepherd Dog & read as many books as she could find about training & raising a well trained & happy canine companion. She trained in AKC Obedience, Schutzhund, Agility, Frisbee, & Sheep Herding. Alaina is a canine trainer, horse trainer, dog sitter, dog walker, and animal energy healer. She is a certified Equine Sports Massage Therapist, Yoga Teacher & has studied Shamanic Healing. She uses all of her experience & gifts to help owners & their dogs have a happy & healthy relationship. She understands that a balanced dog needs both positive reinforcement & love as well as discipline & defined boundaries. Alaina believes very strongly that dogs need to be dogs and frequently takes them in nature to hike, smell, & play! She is happy to be a certified trainer at Off-Leash K9 in South Florida for many years!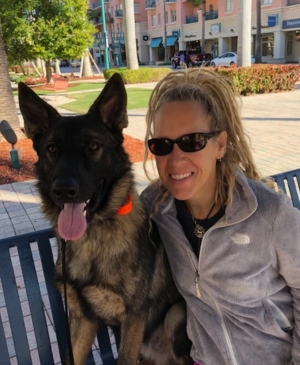 Hi! I'm Christopher. I have the privilege of being Head Trainer for Palm Beach Country. I work closely with clients, our owner, regional director, trainers, and of course our amazing students. I grew up with a strong connection to animals and have pursued that connection in various ways over the past 30 years. In my mid 20's I had the life changing gift of a dog saving my life. It was then I decided to dedicate myself to helping dogs and there humans connect on deeper levels. I received my basic education as a force free trainer. After seeing the massive benefits of a truly balanced training program, I was convinced this is the best way I can make that difference. Please give us a call. We look forward to discussing your specific goals for your dog!
Hi, I am Laura! Whether you want your dog to learn basic manners, a cool new trick, or practical and desirable real life behaviors, I can help you! I have been working with animals for over twenty years, and with dogs and their people for over fifteen. I am also lucky enough to have built a strong support system of peers that I can consult with. I have a background in biology and chemistry, and a focus in pre veterinary medicine, I know and understand the value of science based dog training and change in canine behavior. Also, and from a more personal stance, I enjoy and take pride in continuing my education and in helping people form closer relationships with their dogs. Like a lot of other pet dog professionals, I started off as a dog walker, groomer, pet sitter, veterinary technician, adoption and rescue specialist, and animal lover. Having been almost born into it though, I was exposed to service dog training at a very young age and that is one of the things which might set me apart. Ever since then everyone but me knew that I was going to end up working with people and their dogs. Growing up, we moved around some and that made me strong, adaptable, and social. I am my happiest with people and dogs, and I have found meaning in life in my profession. Let me know how I can help you!
do you have questions for us?
Or Call us for a free consultation today!
About Off Leash K9 Training
Dog Trainers that Are Recognized Around The World!
Nick White is the Owner and Founder of Off Leash K9 Training.  Nick is a former US Marine and former US Secret Service. He currently has over 130+ dog training locations throughout the United States.
Nick is globally recognized as being one of the top dog trainers in the world.  He has 2 official world records in off leash obedience, named on Wikipedia as one of the top 20 dog trainers in the world, recently named top 10 trainer in the world by bestdogtrainers.org, has been featured in many magazines and shows, and he is regularly requested by the top celebrities and athletes! He has been called upon by people such as actor Ryan Reynolds, WWE's John Cena, MLB All Star Max Scherzer, UFC World Champion Jon "Bones" Jones, and many more!
You can visit our YouTube Channel and watch over 1500+ before/after videos of Nick and his team's work!  Off Leash K9 Training has more documented videos than any dog training business in the entire world!